Dropshipping – A Quick Background
Dropshipping is a fulfillment business model where the retailer (that's you) doesn't actually own the inventory you are selling. Instead, you are acting as an intermediary that is selling the products on Amazon, eBay, Shopify, or your own website. When you receive an order (usually automatically), you pass that order to the dropshipping company for them to take, pack and fulfill (ship) the order. Your profit is the difference between what you charge your customers on your website and what the drop shipping company charges you.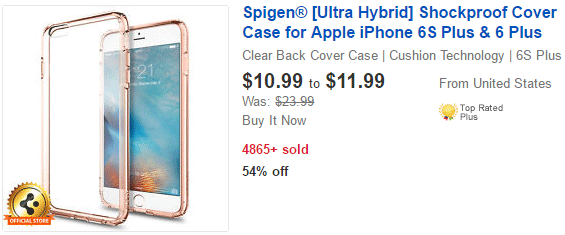 4865+ sold – Professional eBay sellers don't carry inventory. They have someone else package and ship the products to the buyers. These online entrepreneurs just manage the listings. This is the same with online stores (e.g. Shopify), or selling in local magazine ads.
Did you Know Interest in Dropshipping is Strong?

Dropshipping is a Smart, Low-Stress Business Model
Interest in dropshipping is strong and growing. Worldwide Brands is the leader in dropshipper sourcing.
Learn More
The Worldwide Brands Directory – North-American Dropshippers All in one Place
Established in 1999

Represents thousands of vetted and genuine wholesalers

Access to over 10 million products and growing

Offers a reasonable, lifetime membership to guaranteed dropshippers
Worldwide Brands offers a full 60-day refund to experience the full directory.
See for yourself all the dropshippers and wholesalers. Search the whole directory.
Worldwide Brands has Dropshippers in Canada (and Ship to Canada)
Worldwide Brands lists many dropshippers located in Canada, or who happily deliver to Canada. Either way, in the Directory each supplier lists their shipping and location making it easy to locate the best dropshippers for your needs.
Using the Worldwide Brands Dropshipping Directory to Find Dropshippers in/to Canada
In the Worldwide Brands Dropshipper Directory, you can select just dropshippers (1), and those dropshippers located in Canada (2). Of course you can select Any Supplier Location and find dropshippers in both Canada and the US. The results will include the location of the dropshipper (3), where they ship to (4), and what online stores or site they will work with to achieve some level of automation for you (5). Finally, you can see Full Details on a given dropshipper to get they exact address, product selection, policies, and direct contact information (6) so you can go to them directly.
Timothy Ferriss of the Extremely Popular 4-Hour Workweek Endorses Worldwide Brands
In chapter 9: Income Autopilot in the section "Tips and Tricks", Timothy talks about great sources of products to resell, noting Worldwide Brands prominently as a dropshipping source. He states,
Worldwide Brands offers an extensive how-to guide for finding manufacturers willing to dropship product to your customers, which allows you to avoid pre-purchasing inventory. This is where Amazon and eBay power users find not just drop shippers, but also wholesalers and liquidators. – Timothy Ferriss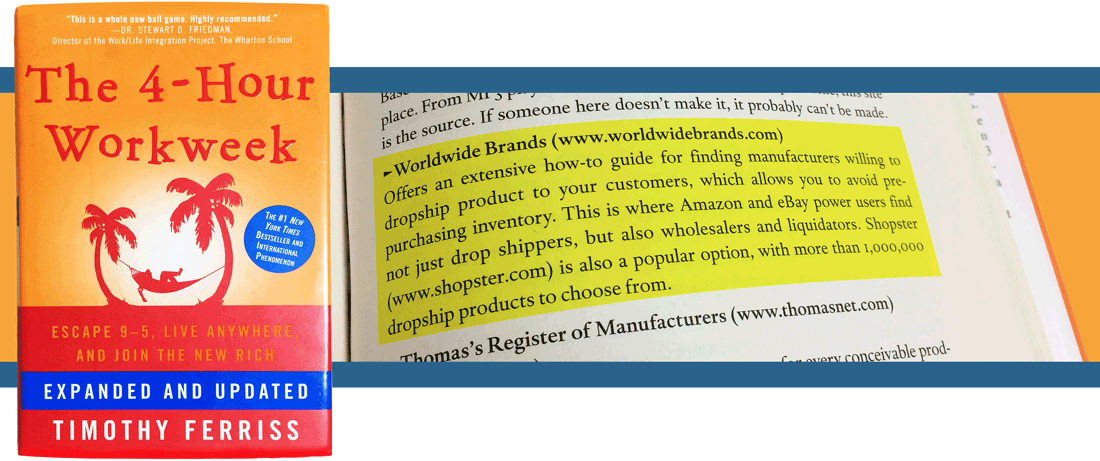 Worldwide Brands Verified Directory of Dropshippers
Safe. 100% Verified. Real Dropshippers with no middlemen, guaranteed.
Become a Member
You're a New Member. What to Dropship? Google Trends is Your Friend
You want to sell a niche product, or a great product before it gets too popular. Some products historically sell very well (e.g. aroma oils, candles, lotions, health products, medicinal herbal teas) and others have a lot of competition (e.g. video games, cameras). The beautiful thing about dropshipping is that you don't carry inventory so your risk is very low. This can make it fun to dropship. You can flex your creative skills and advertise/sell in many ways, and become a leader in your area. The possibilities are truly endless. But, what do you sell? Start with Google Trends. See this case study below.

Getting Started
Determine what to sell

Order samples

Determine pricing

Create the brand

Set up the online store

Take product photos

Create blog content

Set up social accounts

Launch

Test multiple marketing channels

Drive targeted traffic

Make sales
Source a Supplier: Finding a High Quality Dropshipper
When setting out to find a dropshipper, we were looking to find a supplier who could offer their services at a low cost, who was able to give us private label rights, and someone who was reliable with low shipping rates.

The first place we started looking was locally. By simply doing a Google search for various terms like "dropshipping tea toronto", "wholesale tea supplier toronto" and "wholesale tea toronto" – we came across a few results: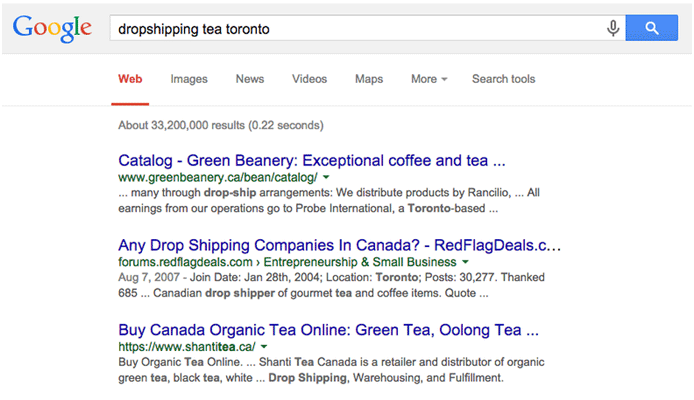 Poor Results – Searching for a Dropshipper Using Just Google
We emailed some of the first results to see if they'd be interested in working with us — unfortunately, we hit a bit of a roadblock.

The local suppliers were aiming more towards working with a reseller who'd stock their teas at a tea shop, or cafe. That's not what we wanted.

On the 10th or so page of Google, we started to get a bit discouraged… (full article)
You Can't Just Google Dropshippers
There are too many middlemen and intermediaries. Worldwide Brands has thousands of safe, 100% verified and real dropshippers in the US and Canada. Real dropshippers means real profit and real relationships with which you can build on.
Become a Member
Success – Searching for a Dropshipper Using Worldwide Brands
Instant success! A supplier who both drop ships and allows for private labeling was found. Open the Dropshippers Directory, search for "matcha tea", and below is one of the results. The contact phone number, address, person to talk with, address, terms, products and company information is all laid out. This company has been vetted by Worldwide Brands, and is a 100% verified dropshipper.